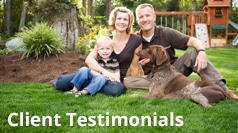 Testimonials 20
"Moving from another province and facing all the challenges the move and the new surroundings bring, it is very comforting and reassuring to know that companies like Homefund with Mr. Loleski are there to help with any obstacle. His knowledge, professionalism, and friendly attitude helped us transition very smoothly."
Dr. M. & Mr. L. Markovski
ziva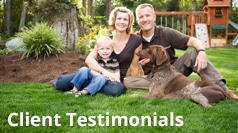 "Moving from another province and facing all the challenges the move and the new surroundings bring, it is very comforting and reassuring to know that companies like Homefund with Mr. Loleski are there to help with any obstacle. His knowledge, professionalism, and friendly attitude helped us transition very smoothly."
Dr. M. & Mr. L. Markovski
"This is the second time we have secured a mortgage through Homefund Corp. We were very pleased the first time and even more pleased this time around. Mike demonstrated that he is consistently professional, timely, personable and discreet. We are and will continue to be Homefund clients."
Mr. & Mrs. Wallace
"The process of buying our house was made very easy because of Mike at Homefund, considering we were moving from the UK to Canada."
Linda & Stephen
"We like the use of the word "feelings" because money cannot buy the comfort, the ease of mind, the trust and the respect that we felt towards Mike. He is professional, a person with exemplary integrity, someone who goes the extra mile to get things done."
Dr. Katerina & Ljubenco B.
"Prompt replies…explained all areas….hassle-free. Excellent service, second time now!"
Kathy M.
"I appreciate your empathetic and trustworthy advice. Thanks for giving me a clear and objective analysis in a professional manner, and your personal touch tops it all. Thanks!"
Lou S., Realtor and client
"Working with the Homefund Corporation was the most easiest part of the process of buying our home, thanks to Mike Loleski. He treated us more like friends than clients, and we built a trusting relationship with him. He was available for one-on-one meetings, phone calls, and emails, whenever we had questions and helped us make the proper decisions needed with our mortgage."
Ralten & Maria
"This is the third time dealing with Mike and Homefund. Mike makes the whole process very easy for us and makes us feel relaxed at what could be a stressful time. We would not go to any other provider other than Mike and would highly recommend his services to anyone."
Matthew & Monika
"This is my third mortgage with Mike at Homefund. He's always finding us the best rate possible. Even though I have not never met Mike in person, he has always been professional and have always trusted his service. Continue to provide exceptional service and we will definitely call upon Mike in the future."
John & Elizabeth
"We have been using Mike for over 10 years now and have been very happy with his service. We can't imagine working with anyone else and look forward to our ongoing and future business with him."
Michael & Laura
"Mike has helped me secure a mortgage 3 times now in the last 13 years. Although I've never met him, I consider him a friend I can turn to in dealing with my financial needs."
Shawn C.
"My parents have been using Mike and Homefund Corporation for the last 20 years and recommended them to me and my wife. We felt very comfortable knowing the exceptional service we received – we're very happy to be with Homefund."
Lui & Elena
"As this was my first mortgage, I relied heavily on my broker. Everything was explained and laid out in a way that would further my knowledge of not only mortgages, but home ownership."
Damain T.
"We came to Mike at Homefund feeling as if we would never be able to qualify for a mortgage because we were self-employed. Mike helped us tremendously by giving us reassurance and peace of mind that we could achieve our dream of owning a house."
Steven & Flora P.
"Mike was recommended by a friend of mine and he went up and above my expectations – he made me feel very comfortable with my whole situation."
Nick & Rosemary
"Mike was a pleasure to work with. I was surprised at how much effort he put into my mortgage needs and into getting to know me. He promptly returned calls and emails. Also, I was impressed he got me such a great mortgage rate!"
Alyson D.
"I received premium service, highly professional solutions, and not only superb performance but support and feeling of confidence during the whole process."
Svetlana M.
"As a first time homebuyer, I had very good experience with Homefund Corp. Mike as my mortgage consultant was extremely helpful, and always accessible. He provided me all necessary information and did his very best to deliver the best possible mortgage solution for me and my family."
Nebojsa & Sonja
"I have used Homefund Corporation for all my mortgages in the past and I'm very impressed with the service they have provided me and my family."
Prabath & Family
"Excellent customer service. Mike was very knowledgeable, and explained everything very thoroughly – quite helpful to first time homebuyers like us. Will definitely come back for all future mortgage needs. Keep up the great work!"
Marija & Igor
Mortgage Renewal Reminder
© Copyright 2018. Homefund Corporation. All rights reserved.

Homefund Corporation
250 Ferrand Drive, Suite 407, Toronto, Ontario, M3C 3G8
Tel: (416) 696-9866 Toll-Free Tel: 1-888-588-6666
Fax: (416-696-9856 Toll-Free Fax: 1-888-588-2053
E-mail: info@homefund.com
FSCO License #: 10480